TV has become a staple in the home. We'll be the first to admit–we are all guilty of binge-watching something from time to time!
But how much do you really know about your favorite TV shows? And we're not just talking about your traditional TV sitcoms–we're talking about Netflix hits, captivating HBO series, and more!
If you want to put your TV show knowledge to the test, try to get through all of these fun TV trivia questions!
* This post may contain affiliate links. You won't be paying a cent more, but in the event of a sale, the small affiliate commission I receive will help keep this blog running/pumping out useful content. Thanks!
---
Before we get started — we invite you to bookmark or save some of these other pop culture-related trivia quizzes for later!
---
170 TV Show Trivia Questions And Answers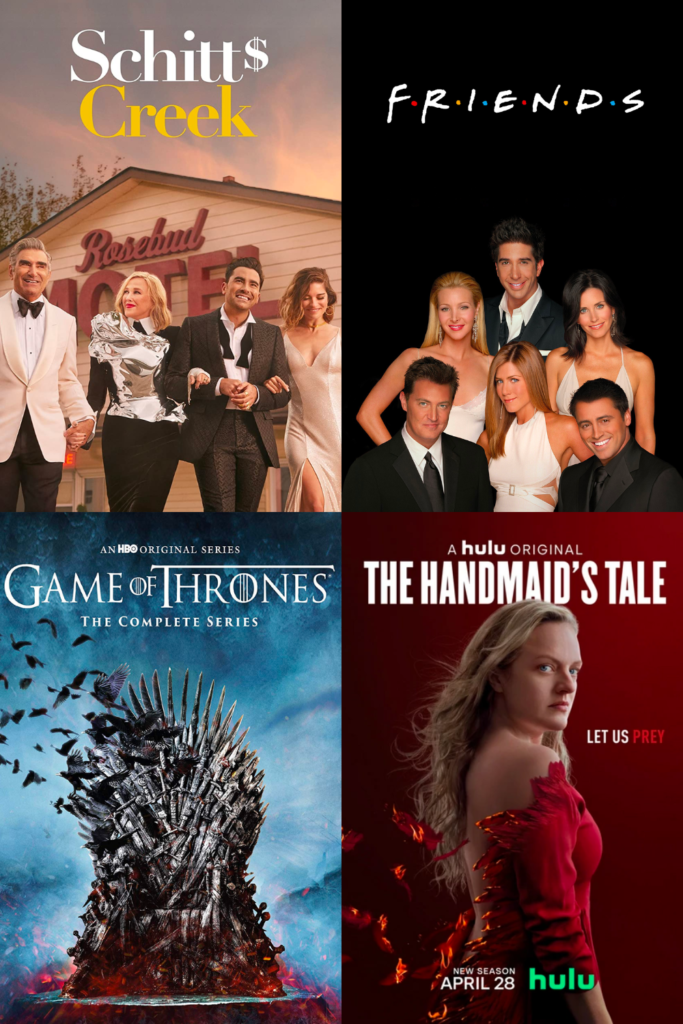 In Stranger Things, what is the game that Will, Mike, Dustin and Lucas are obsessed with playing?
Answer: Dungeons & Dragons.
Which one of the four Sex And The City ladies lives in the trendy Meatpacking District of New York City?
Answer: Samantha.
Which Rocky Mountain state is the setting for Greendale Community College on the TV show Community?
Answer: Colorado.
In the Land of Ooo, what magical canine is a friend to Finn in the animated TV series Adventure Time?
Answer: Jake.
What sitcom are you watching if Charlie is admiring the waitress at the Philadelphia Java Shop?
Answer: It's Always Sunny In Philadelphia.
Which 2014 reality show featured 12 American bachelorettes vying for the hand of a fake British prince they thought was real royalty?
Answer: I Wanna Marry "Harry".
What is the name of the New York City bar that's been the favorite watering hole of the How I Met Your Mother gang since 2005?
Answer: MacLaren's Pub.
What Discover Channel reality series premiered in 2005, which tracks the adventures of crab fishermen in the Bering Sea?
Answer: The Deadliest Catch.
What color is the dreaded line that contestants on The Biggest Loser do not want to fall below, as they'll be voted off the show?
Answer: Yellow.
On which Food Network series do contestants transform mystery baskets of ingredients into appetizers, entrees, and desserts?
Answer: Chopped.
Who was the first celebrity to get Punk'd on the first episode of the TV series in 2003?
Answer: Justin Timberlake–he thought the IRS was seizing his house.
From which book series was the TV series Game Of Thrones adopted?
Answer: A Song of Ice and Fire. 
What is the name of the show where you can follow former bachelors and bachelorettes as they explore new relationships in a secluded, dreamy paradise?
Answer: Bachelor in Paradise.
What host of Good Eats, which ended in 2011, described his show as a "combination of Julia Child, Mr. Wizard, and Monty Python"?
Answer: Alton Brown.
Which town on Long Island is the location of celebrity chef Ina Garten's house, where her show The Barefoot Contessa is shot?
Answer: East Hampton.
Dubrovnik was the filming location for which fictional area in Game of Thrones?
Answer: King's Landing.
Which city is home to a blood-splatter analyst who brings the guilty to justice in his own special way on the Showtime series Dexter?
Answer: Miami, Florida.
Which Gilligan's Island character's iconic gingham blouse and shorts were sold at an auction for over $20,000 in 2005?
Answer: Mary Ann.
In what aptly named cooking show does hot-tempered perfectionist Gordon Ramsay pit men against women in various competitions?
Answer: Hell's Kitchen.
Which reality series inspired the show Schitt's Creek?
Answer: Keeping Up With The Kardashians.
In Schitt's Creek, what is the name of the film in which Moira Rose plays Dr. Clara Mandrake?
Answer: The Crows Have Eyes 3: The Crowening.
What breakfast food do most people associate with Stranger Things?
Answer: Eggo Waffles.
In Stranger Things, what is the name of the official D&D club at Hawkins High School?
Answer: Hellfire Club.
In The Office, which character has a heart attack during the infamous fire drill?
Answer: Stanley.
Who was the winner of the second season of American Idol?
Answer: Ruben Studdard.
What FOX TV show was Ken Jeong a judge for?
Answer: The Masked Singer.
How many people in total played in Squid Game?
Answer: 456.
What show depicts the lives of seven young adults on the autism spectrum diving headfirst into the dating pool?
Answer: Love On The Spectrum.
Which city in the Southwest is home to Walter White in Breaking Bad?
Answer: Albuquerque.
How many times does Alexis say, "Ew, David!" throughout the series Schitt's Creek–was it 3 times, 20 times, 48 times, or in every episode?
Answer: 3 times; despite being one of the most quotable lines from the show, it was only said three times.
In How I Met Your Mother, what is the name of the bartender at McLaren's Pub?
Answer: Carl.
A spinoff series of Breaking Bad was created, which follows Walter White's dodgy lawyer tackling other cases. What is that show called?
Answer: Better Call Saul.
This show features Joe Goldberg as a stalker that might creep the heck out of you out but somehow, you're still rooting for him to win.
Answer: You.
This show was executively produced by Selena Gomez, based on a novel by Jay Asher, and tells the story of a high schooler who takes her own life after dealing with bullying and cruelty from her classmates.
Answer: 13 Reasons Why.
This fantasy-themed Netflix show, featuring Henry Cavill, is based on a book series that also spawned a popular video game franchise. What is the show?
Answer: The Witcher.
How many dragons did Daenerys Targaryen from Game of Thrones have?
Answer: Three.
What year was the first episode of Friends aired?
Answer: 1994.
What channel did Even Stevens air on?
Answer: Disney Channel.
What 2013 video game gets adapted into a tale of a teenager navigating a zombie apocalypse with the help of a grizzled smuggler?
Answer: The Last of Us.
What popular kid's show debuted in 1969 on PBS and is still on air presently?
Answer: Sesame Street.
What was Monica's apartment number in the show Friends?
Answer: 5.
In the show Friends, while Courtney Cox insisted that she wanted to play the role of Monica, the producers wanted to her to play another character–who was it?
Answer: Rachel.
____ is a show that features various long-distance couples that have just 90 days to decide whether the courtship should conclude with marriage.
Answer: 90 Day Fiance.
Pilot Pete, Colton Underwood, Arie Luyendyk Jr., and Ben Higgins were all the center stars of what ABC television series?
Answer: The Bachelor.
Gonzo the Great and Fozzie Bear are characters in what TV show?
Answer: The Muppet Show.
What Netflix show casts multiple actresses (Claire Foy, Olivia Colman, and Imelda Staunton) to play Elizabeth at various ages?
Answer: The Crown.
This Comedy Central TV show features a comedian doing hysterical parodies of Black celebrities like Rick James, Prince, and Lil Jon. What show is it?
Answer: Chapelle's Show.
What Netflix sci-fi comedy show features Nadia dying a whole bunch of times, only to respawn every time in the bathroom at her 36th birthday party?
Answer: Russian Doll.
How many seasons of The Office were there in total?
Answer: Nine seasons.
In Schitt's Creek, what's the name of the general store David opens?
Answer: Rose Apothecary.
In The Fresh Prince of Bel-Air, what song does Carlton do his iconic hand-flying dance to?
Answer: "It's Not Unusual" by Tom Jones.
Who voices BoJack Horseman?
Answer: Will Arnett.
In Breaking Bad, what subject did Walter White teach at school?
Answer: Chemistry.
This Netflix series, taking place in London in the 1800s, made Regé-Jean Page and Phoebe Dynevor some of the freshest faces in Hollywood. What is the show?
Answer: Bridgerton.
What is the main religion of the Seven Kingdoms in Game of Thrones?
Answer: Faith of the Seven.
Where did the gang from Saved By the Bell hang out after school?
Answer: The Max.
The 1990s sitcom Family Matters is a spin-off of which popular show?
Answer: Perfect Strangers.
In Mad Men, what product is Don's final ad for, which airs at the end of the series finale?
Answer: Coca-Cola.
What is Netflix's biggest hit TV show in terms of the number of hours watched?
Answer: Squid Game, clocking in at 1.65 billion hours as of 2022.
In The Simpsons, what does Homer say when he's strangling Bart?
Answer: "Why you little!"
What is the famous beer brand from The Simpsons?
Answer: Duff.
What hospital is the setting for Grey's Anatomy?
Answer: Seattle Grace Hospital.
Smallville depicts what superhero's teenage years?
Answer: Superman.
What was the first toy to be advertised on TV?
Answer: Mr. Potato Head.
What channel was Sex and the City on?
Answer: HBO.
What channel did Gilmore Girls start and end on (hint: they are two different channels)?
Answer: It began airing on The WB before the final season, which showed on The CW.
What current TV show is the longest-running live-action primetime show?
Answer: Law & Order: SVU.
In The Cosby Show, what job did Clair Huxtable have?
Answer: Lawyer.
What channel did Lizzie McGuire air on?
Answer: Disney Channel.
What is Sheldon's catchphrase in Big Bang Theory?
Answer: Bazinga!
"Marcia, Marcia, Marcia!" is a famous quote from what TV show?
Answer: The Brady Bunch.
"Oh my God! They killed Kenny!" is a quote from what satirical Comedy Central show?
Answer: South Park.
"The truth is out there." is an iconic line from what 90s TV show?
Answer: The X-Files.
"Treat. Yo. Self." is a popular saying these days, but from what show did it originate?
Answer: Parks and Recreation.
What is the Walking Dead spin-off TV show called?
Answer: Fear the Walking Dead.
In Modern Family, what country was Gloria originally from–is it Mexico, Colombia, Argentina, or Brazil?
Answer: Colombia.
What channel did Spongebob Squarepants air on?
Answer: Nickelodeon.
Which Bong Joon-ho-directed post-apocalyptic action film resulted in a TV series that carries the same name as the movie?
Answer: Snowpiercer.
Because so few women in the Republic of Gilead are fertile, "handmaids" are enlisted to bear the children of the ruling class. This plot belongs to which Hulu TV show?
Answer: The Handmaid's Tale.
_____  is a supernatural series in which Tom Sturridge is the lord of dreams, Gwendoline Christie is Lucifer and Kirby Howell-Baptiste is Death.
Answer: The Sandman.
What was the first presidential debate shown live on TV?
Answer: John F. Kennedy and Richard M. Nixon.
What was the first reality show to air on MTV?
Answer: The Real World.
Curb Your Enthusiasm features what character, basically playing himself in the show?
Answer: Larry David.
This TV show follows the survivors of a commercial jet for many seasons until they face an immortal smoke monster. What is this TV show?
Answer: Lost.
In what Disney+ TV show does Orphan Black star Tatiana Maslany play Jennifer Walters, a lawyer with superpowers?
Answer: She-Hulk: Attorney At Law.
How many children were in the Brady family on The Brady Bunch?
Answer: 6.
What popular sci-fi series from the late '90s starred a teenage vampire hunter?
Answer: Buffy the Vampire Slayer.
Over the decades, Saturday Night Live has redefined TV sketch comedy. In what year did SNL first air?
Answer: 1975.
Which TV show depicts Rod Serling's collection of fantastical stories, set in "the middle ground between light and shadow, between science and superstition"?
Answer: The Twilight Zone.
27 members of the Sopranos cast were also in what movie?
Answer: Goodfellas.
Tony Soprano is a member of the DiMeo crime family of New Jersey. What's their New York City counterpart?
Answer: The Lupertazzis.
Which former Seinfeld star shed 30 pounds and showed off his success in a 2010 Jenny Craig ad in which he performed a Broadway-style song and dance number?
Answer: Jason Alexander.
What breed of dog is Champion, the three-legged dog that joined the TV show Parks and Recreation in 2012?
Answer: A pitbull.
On what TV series starring Ashton Kutcher and Topher Grace does Red regularly and creatively threaten to kick Eric's butt?
Answer: That '70s Show.
What comic, writer, and producer left Jon Stewart's The Daily Show to host his own The Nightly Show?
Answer: Larry Wilmore.
Which PBS kids' show host sang "It's a Beautiful Day in the Neighborhood" every morning for 32 years until he retired in 2000?
Answer: Mr. Rogers.
Who was the host of the Travel Channel's culinary adventure show No Reservations?
Answer: Anthony Bourdain.
Which Late Night host was the solo anchor on the SNL Weekend Update from 2008 to 2013?
Answer: Seth Meyers.
Which TV hospital show mistakenly displayed a backward chest X-ray in its opening scenes for the first five years of its run?
Answer: Scrubs.
What singer asked her husband on their 2003 reality TV show about Chicken of the Sea, "Is this chicken, what I have, or is this fish?"
Answer: Jessica Simpson.
What was the pet's name in The Flintstones?
Answer: Dino.
In which fictional town does the show Stranger Things take place? (Bonus points for knowing the state, too!)
Answer: Hawkins, Indiana.
What type of Pokemon is Bulbasaur?
Answer: A dual-type Grass / Poison Pokemon.
What 2012 Emmy host opened the show by cowering in a women's bathroom stall–Jimmy Kimmel, Conan O'Brien, or Jimmy Fallon?
Answer: Jimmy Kimmel.
Which creepy television series on FX starred Lady Gaga as a bloodsucking hotel owner?
Answer: American Horror Story.
Eric Northman, played by Alexander Skarsgård, is a vampire in what HBO vampire show?
Answer: True Blood.
What drama from 2013 features characters with the nicknames Crazy Eyes, Big Boo, Taystee, and Pennsatucky?
Answer: Orange Is The New Black.
What game show is on TV if you hear Steve Harvey say, "Survey says"?
Answer: Family Feud.
Which network in 2005 first aired Cash Cab, a quiz show that takes place in a NYC taxi cab with Ben Bailey as the driver and host?
Answer: Discovery.
What drama depicts the teenage years of Ryan Atwood, a tough kid taken in by the wealthy Cohens of Orange County, California?
Answer: The OC.
What is the UK counterpart of American Idol that first aired a year earlier in 2001?
Answer: Pop Idol.
Which pop star, a former Lakers cheerleader, rekindled her career in 2002 when she became a talent show judge?
Answer: Paula Abdul (on American Idol).
Which television show is based primarily on characters from the X-Men comic books?
Answer: Legion.
In the TV show The Simpsons, what is the name of Ned Flanders' two children?
Answer: Rodd and Todd.
Which New Jersey city is the original home of Carlo's Bake Shop, where TV's Cake Boss Buddy Valastro layers on his cakey magic?
Answer: Hoboken.
In Netflix's Stranger Things, what is Vecna's real name?
Answer: Henry Creel, aka One.
What job does Chandler Bing have at the end of Friends?
Answer: Junior copywriter.
Khaleesi is a feminine title meaning "queen" in what fictional Game of Thrones language?
Answer: Dothraki.
What is the name of Snoopy's bird friend?
Answer: Woodstock. 
On which TV network will you find occasional pauses for blocks of Catfish or even a new episode of The Challenge, but on most days it's just consecutive episodes of Ridiculousness?
Answer: MTV.
What leading man started his career as Prince Charming in a Disney On Ice show?
a) Patrick Swayze
b) Richard Gere
c) Tom Cruise
d) Kevin Costner
Answer: Patrick Swayze. 
Who played the first Doctor in Doctor Who?
Answer: William Hartnell, back in 1963.
In The Brady Bunch, Bobby and Cindy tried to break a world record with what playground equipment?
Answer: The teeter-totter. After not being invited to a wedding and helping the older kids, Bobby and Cindy are off to set a new teeter-totter record.
Which show premiered in the fall of 1989, and focuses on the Winslow family and their three children: Laura, Eddie, and Judy?
Answer: Family Matters.
In August 1999, a game show hosted by TV vet Regis Philbin premiered. What is the name of the TV show?
Answer: Who Wants to Be a Millionaire.
Which TV network is home to shows including The Sopranos, Sex and the City, The Larry Sanders Show, Curb Your Enthusiasm, and The Leftovers?
Answer: HBO.
In what year does HBO Max dump the 'HBO' from its name?
Answer: 2023.
How many seasons did the TV show "Joey" run for before it was canceled?
Answer: Two seasons.
What is the street name for the high-quality blue methamphetamine Walter White manufactures in Breaking Bad?
Answer: Blue Sky.
In "Keeping Up with the Kardashians," what is the name of the family's matriarch?
Answer: Kris Jenner.
Which reality dating show features the handing out of roses and allows contestants to propose marriage at the end of the season?
Answer: "The Bachelor" and its various spin-offs.
"Survivor" is known for its remote locations. What do contestants compete for on this show?
Answer: $1 million and the title of Sole Survivor.
What wildly popular English baking competition series challenges amateur bakers to create delectable treats?
Answer: "The Great British Bake Off".
What is the name of the continent where most of the events in Game of Thrones take place?
Answer: Westeros.
Which noble house is known for the motto "Winter Is Coming" in Game of Thrones?
Answer: House Stark.
Who is the main protagonist of The Walking Dead comic book series and TV show?
Answer: Rick Grimes.
In "The Mandalorian," what is the real name of the Mandalorian protagonist known as "Mando"?
Answer: Din Djarin.
What is the name of the interactive film released as part of "Black Mirror," allowing viewers to make choices for the protagonist?
Answer: "Bandersnatch".
In "Westworld," what is the name of the subsidiary that owns and oversees Westworld, the amusement park populated by highly advanced android hosts?
Answer: Delos Destinations.
Megyn Kelly's tenure at NBC included hosting a daytime talk show and a Sunday-evening newsmagazine. What led to the cancellation of her daytime talk show?
Answer: Controversy arose in October 2018 when she made comments seemingly defending the use of blackface on Halloween, which led to the show's cancellation.
"Fargo" is inspired by a Coen Brothers film of the same name. In which U.S. state is the TV series primarily set?
Answer: Minnesota.
In the TV series "Fargo," who is known for saying "Okay, then" and "You betcha" and is played by Frances McDormand in the film version?
Answer: Marge Gunderson.
In "The Witcher," what magical creature does Geralt hunt in the first episode, titled "The End's Beginning"?
Answer: Kikimora.
Which character is the eldest son and heir-apparent of the Roy family in "Succession"?
Answer: Kendall Roy.
In "Better Call Saul," what is the birth name of the character who eventually becomes Saul Goodman?
Answer: James Morgan "Jimmy" McGill.
What is the profession of the titular character, Miriam "Midge" Maisel, in "The Marvelous Mrs. Maisel"?
Answer: Stand-up comedian.
Which award-winning actress portrays Midge Maisel in the series?
Answer: Rachel Brosnahan.
What is the name of Sheldon Cooper's roommate and best friend in "The Big Bang Theory"?
Answer: Leonard Hofstadter.
Which fictional town is the setting for "Parks and Recreation"?
Answer: Pawnee, Indiana.
Who plays the enthusiastic and optimistic Leslie Knope in "Parks and Recreation"?
Answer: Amy Poehler.
Which character is known for his love of yogurt and is portrayed by Andy Samberg in the series "Brooklyn Nine-Nine"?
Answer: Jake Peralta.
In "The Good Place", who plays the character Michael, the architect of The Good Place, in the series?
Answer: Ted Danson.
Which character in "The Umbrella Academy" has the ability to speak to the dead and often communicates with a deceased brother named Ben?
Answer: Klaus Hargreeves.
What is the nickname of the Pearson family patriarch, portrayed by Milo Ventimiglia, in "This Is Us"?
Answer: Jack.
Who is the author of the novel "The Haunting of Hill House," which inspired the TV series?
Answer: Shirley Jackson.
In "Ozark," what illegal activity does the Byrde family become involved in to launder money for a Mexican drug cartel?
Answer: Money laundering through businesses, including casinos.
Which royal residence is prominently featured in "The Crown" as the backdrop for British monarchs' lives?
Answer: Buckingham Palace.
In the dystopian world of "The Handmaid's Tale," what is the name of the theocratic and oppressive regime's capital city?
Answer: Gilead.
In "Mindhunter," which FBI agents interview serial killers to understand their psychology?
Answer: Holden Ford and Bill Tench.
"Chernobyl" dramatizes the events surrounding the Chernobyl nuclear disaster. Which European country does it primarily take place in?
Answer: Ukraine.
In "MasterChef," contestants compete in culinary challenges. Who are the judges?
Answer: Gordon Ramsay, Aarón Sánchez, and Joe Bastianich.
"The Voice" features blind auditions. What do the coaches use to select their teams?
Answer: A red button that turns their chair around.
In "90 Day Fiancé," what's the premise of the show?
Answer: Couples navigate international relationships, with one partner seeking a K-1 visa to enter the United States.
Which city is the setting for the original "The Real Housewives" franchise?
Answer: Orange County, California.
"Dancing with the Stars" pairs celebrities with professional dancers. What is the highest score a couple can receive from the judges?
Answer: 30 points (10 points from each of the three judges).
"The Amazing Race" sends teams on a global adventure. What do they receive when they reach the Pit Stop first?
Answer: A prize and a clue for the next leg of the race.
What TV show network was "CatDog" aired on?
Answer: Cartoon Network.
"Killing Eve" follows the cat-and-mouse game between a skilled assassin and a determined intelligence officer. Who is the assassin?
Answer: Villanelle.
"The Witcher" is based on a book series. What is the main occupation of the show's protagonist, Geralt of Rivia?
Answer: Witcher (Monster hunter).
In Cartoon Network's "Invader Zim", what is the name of Zim's highly intelligent and malfunctioning robot servant in the series?
Answer: GIR (short for "Garbage Information Retrieval").
---
Best Trivia Games of 2024
Can't get enough of the trivia goodness? Neither can we. If you're looking for trivia games to play with friends/family, here are our favorite trivia board games on the market this year!
Ultimate Pub Trivia
1,100 questions covering 6 different categories
Host your own pub-style trivia nights
4 or more players | Ages 12 and up
Anomia Party Edition
A very popular card game for families, teens and adults!
Fast-paced friendly competition and laugh-til-you cry kind of fun
3-6 players | Ages 10+
…I should have known that! Trivia Game
Best for Trivia on the go
110 cards with 400+ questions
Instead of points for answering questions right, points are subtracted for every wrong answer
Players 2+ | Ages 14+
---
And that just about wraps up our complete list of TV trivia questions. So, how'd you do??
Know another TV lover in your life who would enjoy this fun TV show quiz? Why not share this post with them and see how many they can get right?
If you enjoyed reading this article, check out some of our other trivia topics and quizzes:
SHARE THIS POST: